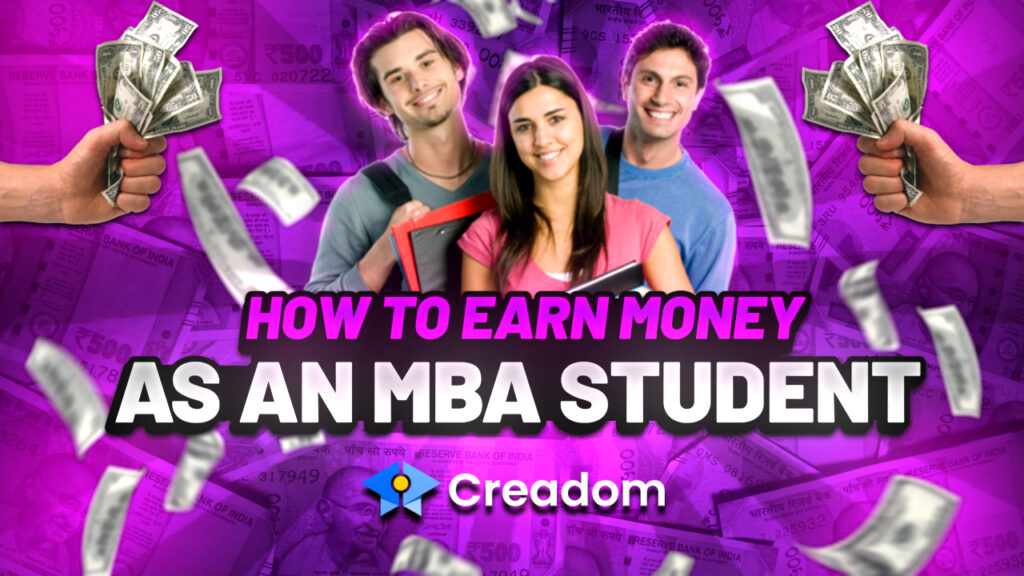 I am sure you won't mind having a little extra cash on hand while you're in college, right? So how can you earn money as an MBA student?
There is so much that could be done if you could earn money while doing your MBA, from your personal finances to funneling the money into courses to actually repaying your student loan WHILE being in college!
Sounds absurd and interesting at the same time?
Keep reading. There is so much for you in this article because, let's face it, getting an MBA requires a financial commitment. While doing so can boost your professional and economic prospects, many people find it difficult to shoulder the upfront cost.
Where Should you Begin?
Although there are numerous ways to make a handful while in business school, I'm here to provide you with a full-fledged approach that will not only help you pay for your MBA but also put you on the road to financial independence early in life.
More than 500 business school students from more than 20 schools were recently surveyed by Illuminate. The results showed that more than 85% of students were interested in entrepreneurship as a career path because of its immense independence and accountability. Even still, just 18% of graduates follow through on their aspirations.
Everyone absolutely adores entrepreneurship nowadays. They admire self-made businesspeople and aspire to follow in their footsteps. The unfortunate truth is that since we don't hear enough people talking about it, not enough people actually start it.
Humans have a tendency to confirm. Due to this, we strive to embrace the desires of those around us, which is to work 15 or 18 hours each day in corporations while suppressing our own inner desires to start something big for ourselves.
What this article has to offer?
Creadom shall help you start your entrepreneurship and answer your questions on "How to make money during an MBA".
As Darpan Saxena says in one of his LinkedIn posts, "side hustle that students use today to describe financial independence is one of the most misleading terms in the entrepreneurial world." According to his philosophy, the problem is that by labeling this as a side hustle, you vastly underestimate the influence it can have on your life. You undervalue the fact that your side business could also end up being your primary employment or area of specialization.
The secret to it is that if you are chasing it properly, and if you're committing to it right from the first day of your MBA, you will see glorious outcomes larger and more satisfying than the outcomes of your other MBA friends.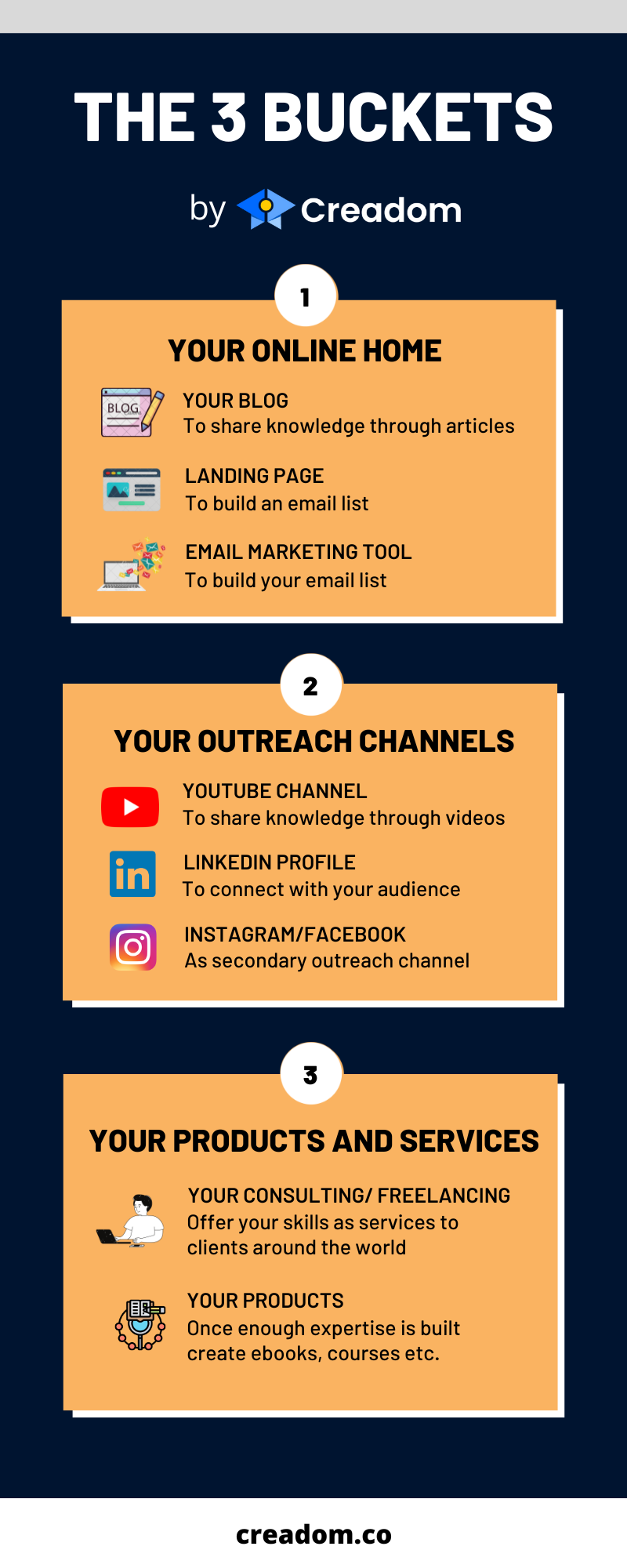 How to earn money as an MBA student?
As illustrated in the media above, we have eight necessary elements within three buckets. This will help you launch your business and achieve financial independence while pursuing your MBA:-
1. Your Online Home
Keeping your right foot forward is important for building a strong foundation for your entrepreneurial journey. The elements listed below serve as the starting point for your creation.
Element 1- Your Blog: To Share the knowledge through articles
MBA is all about studying business tactics so that you can use them in your job/business later on. But I am saying, why wait till you get a job in hand? We see trending articles and videos where students anxiously ask, "How to earn money as an MBA student".
My advice would be to create a blog right away!
Your blogs will be a platform where you can implement everything you've learned in college. As an MBA Student with excellent marketing and analytics, for instance, you should begin to write about those subjects. Make sure that each article is at least 750-1000 words long in order to be effective for SEO.
How does this even help?
The more you'll begin to write about the subject. The more people begin to view you as an expert, the more you will also begin to consider yourself that way. One word of caution, you shouldn't launch a blog in the hopes that readers will flock to it immediately. Be ready to accept the possibility that during the first five to six months of your blog's existence, no one may even know about it.
Blogging plays a crucial role in your approach as well as in developing your own brand.
Element 2- Landing Page: To Offer a Digital Product
You must have a landing page as the second part of your "Online Home".
What is a landing page, exactly?
A landing page is a page with one offer or one primary emphasis. Your goal for that page should be to invite visitors to leave their names and email in exchange for something worthwhile.
You are not acting like a spammer.
No.
You must provide content that is valuable, excellent, transformational, and helpful to your audience. What precisely is this thing that you can develop and make accessible to your audience without charging?
Hold tight; I'll be sharing more in the coming paragraph.
If you are someone who is interested in starting a 6-figure/month business from your MBA
hostel, I would recommend going through this article.
Element 3- Email Marketing Tool: To store your email list
Have you ever wondered when someone visits your landing page and then leaves a lead, exactly where would that lead go and remain?
It would remain in the email marketing program you use. Through this program, you will be able to send out automatic emails to every subscriber.
When your list expands, and you are able to segment your audience within those lists, you will be able to appreciate the value of having a strong, sophisticated email solution.
This will enable you to build clever automation that will simplify your work and free you up to concentrate more on providing value to your leads than on the transactional aspects of your interactions with them.
Additionally, you should also be aware that you must have an email marketing tool from day one. You shouldn't hold off for several weeks or months.
Your home would consist of these three components.
You know how they say that "your home must be prepared and furnished the moment you move in". It's the same here as well.
2. Your Outreach Channels
After your online home is all set up, move on to creating the pathway for your outreach opportunities. Although there are many opportunities to connect with your audience in the market, the ones stated below should be your first consideration.
Element 4- Your YouTube Channel: To share knowledge through videos
Have you ever searched for "Can I earn while studying in IIM" on the internet?
You will be shocked to see how many YouTubers and creators are out there doing well and receiving immense traffic on the platform without writing a word.
Customers either interact with the blog's text or interact with the videos. As a result, you must be able to serve all kinds of audiences. Additionally, being an MBA student gives you a greater edge over other creators as audiences find it credible to learn from an IIM student's knowledge pool.
Videos provide you with the opportunity to speak directly to your audience and make your point. This increases interest in your project and builds trust. Moreover, it will help you to sharpen your communication skills.
All you need to do is — take out your phone and shoot!
These videos need not be of high production. A simplistic and clear-to-understand content would be enough to do wonders.
Element 5- Your LinkedIn Profile: To connect with your audience
Being an MBA student, you must undoubtedly already have an impressive LinkedIn Profile. If not, then this should be your primary objective even if your intention is not to earn money from it. Concentrate on expanding your LinkedIn audience. Now, when we urge you to concentrate on growing your following, kindly refrain from focusing on how many followers you have previously known. The emphasis should be on establishing the right connections, producing quality content, and sharing your experiences.
Taking snippets from your blog posts and YouTube videos as you create them and sharing them on LinkedIn is one of the easiest methods to do so.
It's one of the platforms that are most welcoming to content creators, and the quality of the organic reach you will discover there is likely to be exceptional.
I hope you understand that what I told you will be incorporated into your college activities without any difficulty.
So, go ahead and clean up! Connect on LinkedIn with other MBA buddies as well as some of the most significant figures in the industries, such as the CXOs or top-level managers, or HR. Connect with people and share your knowledge, and you'll see what sort of impact and results you can have if you begin to post your thoughts and ideas on that platform regularly.
Element 6- Your Instagram/Facebook: For a Secondary outreach channel
You need to establish an additional channel for yourself in regards to LinkedIn and YouTube. This may be Facebook or Instagram, where you can connect with your audience by producing condensed versions of the information.
Because we are aware that a large portion of our audience is not interested in lengthy articles and even extended YouTube videos don't hold their attention. You should start making shorter material for Instagram and Facebook.
All you need to do is simply go ahead and cut up the long-form videos you are producing for your YouTube channel into smaller chunks.
It's crucial to realize that if you feel overwhelmed by managing these numerous channels, it's advised to concentrate simply on Facebook or Instagram in the beginning because you'll need them to run Google Ads in the later phase.
3. Your products and services
Element 7- Your consulting/freelancing Profiles
So how do MBA students make money?
To answer this question, you must develop your consultancy profiles!
You must begin by marketing your services in your area of specialization. You must be able to develop service offerings to various smaller businesses that might be looking to hire MBA from reputable business schools like yours and would choose to collaborate with them.
LinkedIn, Upwork, and Fiverr are the three sites where you should be active if you want to do freelancing. Many claims that such websites do not guarantee that you will make decent money. What you must truly comprehend, though, is that you must have faith in the assertion that you are an MBA and that, wherever you choose to work as a freelancer, your MBA from a reputable business school will give you a distinct advantage. You will naturally charge more as a result. Thus, the first quality you must possess is the self-assurance that you can command a high salary.
Place a bid on a project, communicate with the client, inquire about their job, apprise them of the nature of the project, and display your knowledge of that to them.
If you are someone who wants to learn skills faster and struggles to do so, head on to our article: How to learn any skill faster and better during MBA. It will help you not just to acquire emerging skills but also ways to retain them.
Element 8- Your Courses and Product
In the beginning, I told you that you needed to make a landing page with a free offer on it. Additionally, you should be aware that in addition to making a free offering, you need to produce a paid item that will be sold on your website.
The purpose of making a free offering at first is to establish a connection with your audience, and then, if they are interested in your services and have realized that, yes, you are an expert in this field, you can promote them on one of your paid products.
Recognize that you only need to generate these knowledge products—which are born from your expertise—once. Consequently, if your product is good and your outreach is good, they will sell on their own. And by outreach, I mean how frequently you post on your social media accounts.
Your audience will mostly interact with your free material on your YouTube channel, Instagram, and LinkedIn. When they are entirely in line with your way of thinking, they would sign in for your products and services.
Conclusion
I'm sure that by now you have fully understood the steps to begin the long process of achieving financial independence. If you begin right away without procrastinating, you will be able to do all of this. It is not a scam to make quick money. You must put a lot of effort into it and gradually construct it so that, by the time you complete your MBA or, more likely, after working for a year or two, you are able to stand out from the competition.
You won't even be aware of it when you create an additional source of income for yourself. And in no time, your secondary source of income will become your primary one, allowing you to pursue it without risk.
Don't follow the crowd during your MBA; instead, start working on what you are passionate about. Simply changing the way you work and live will allow you to gradually invest in this and produce something that will have a longer-lasting influence.
If you want to begin this path, you may enroll in our free course called 5 Steps Ahead Blueprint where I will teach you the tips and tricks that MBA students need to know so that they can actively consider how they will use their degree to fulfill their dreams.
Happy Learning with Creadom!