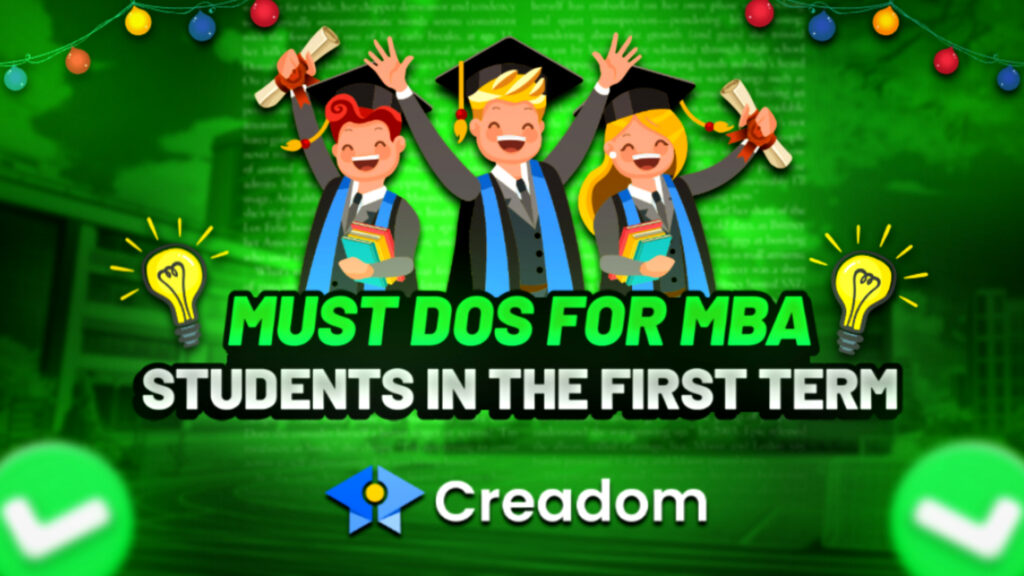 You have worked hard for your MBA exams, aced the interview, and finally made it to your dream business school. Now the journey full of surprises begins, both pleasant and otherwise. The first term is considered the most feared one. That's when Creadom comes to the rescue. This article will help all the frightened students understand the "Must Dos for MBA Students in the First Term".
The first term of your MBA is marked as the most crucial stage of your career. A calculated step would make the course of your MBA smooth. We agree that it can be quite difficult to keep up with the rigorous academic course load and the never-ending flood of business theories, constructions, examples, models, and internships. Therefore, the majority of MBAs struggle to choose where to direct their attention. A study says that after graduation, candidates say they only remember a tiny portion of the material covered in class, and many worries they won't know how to use it in the "real world."
Let me introduce you to 3 aspects of "Must Dos for MBA students in the First Term".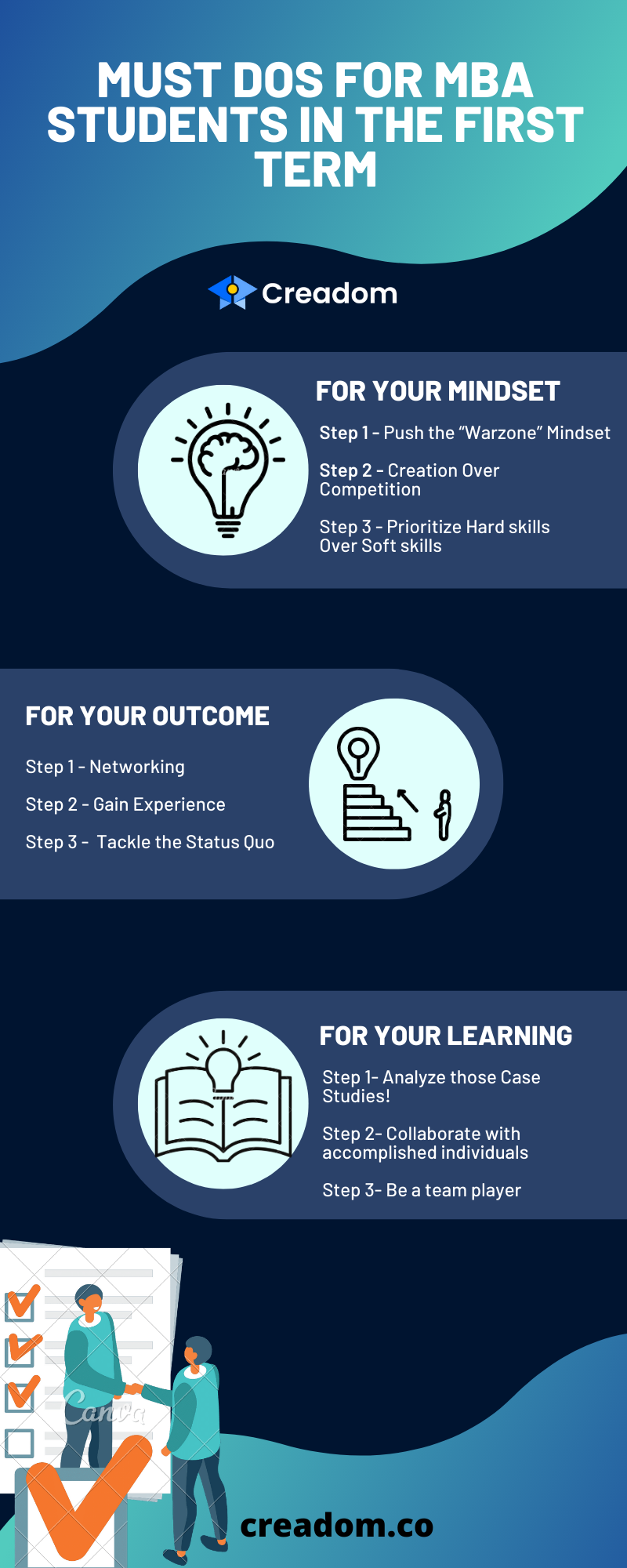 What are the Must Dos for MBA Students in the first term?
Now that I have your attention, let me tell you what are the must-dos for MBA students in the first term. Follow the following steps, and I can assure you that the experience will be worth it.
1) What Can Be Done for Mindset in Your First MBA Term?
MBA programs can be difficult. However, one common mistake every student makes is discussing placements, exam stress, and rules with seniors. In Darpan Saxena's opinion, maintaining your mindset is the first thing you should do.
It is a human tendency to form an opinion about the college even before you enroll. We refer to this perception as having a "battle zone attitude". The way it works is that when you talk to your batchmates or your seniors, who warn you that it would be a difficult road, you start to think like you're in a combat zone.
Our advice is to stop viewing your college experience as a battleground. From lifelong friendships to greater confidence at work, an MBA degree confers a wealth of intangible benefits.
Being successful in your MBA profession and life can be done in several ways. There are countless examples of people on the internet succeeding enormously by doing one thing correctly and appearing to do so immediately.
Here are a few of such general mindset changes to guarantee a fulfilling experience in an MBA:-
Step 1- Push the "Warzone" Mindset
Recognize that you've been admitted to your dream college for a reason. Everyone in your batch will succeed in their respective industries.
Therefore, focus your attention on developing your talents while equating the sense of dissatisfaction with learning.
I would highly recommend our free course called 5 Steps Ahead Blueprint which will help during your course of MBA.
Step 2- Creation Over Competition
As stated by Wallace Wattles in his book "The Science of Getting Rich", "You must get rid of the thought of competition. You are to create, not to compete for what is already created."
We all should stop concentrating on competition and begin focusing on creation. Creating a distinctive personal brand for yourself could be all it takes to ensure that you stand out from the competition whenever you appear for an interview.
It might also imply putting in the effort to produce a piece of work that will speak for you. Therefore, when you focus on creating, you enjoy the process of strengthening yourself via the pursuit of your passions. Not only would this be good for your mental health, but it would also improve your academic performance and personality as a whole.
Step 3- Prioritize Hard skills Over Soft skills
You might find this strange, but hear me out!
Your hard skills for MBA profession qualify you for it and enable you to perform it. However, you will only be able to climb the corporate ladder with the aid of soft skills.
It is best to hone your hard skills throughout your first MBA term since these are ultimately what will enable you to work in your career later on. Soft skills are important, although they can be developed concurrently or later on in the MBA. So, take up as many courses, certifications, and experience as you can. Accordingly, you won't have to get anxious during your summer placements.
Stay tuned as we will be diving deep into how to use these skills for freelancing and other opportunities. If you would like to know about some solid hard skills that will help you in your upcoming internships and the MBA life ahead, go through the article "Skills to Develop this Summer For a Prolific MBA Ahead" for more insights.
2) How to Ensure that you Meet your Set Outcomes Throughout your MBA's first semester
Being successful in your business, profession, and life can be accomplished in a variety of ways. There are countless examples of people on the internet succeeding enormously by doing one thing correctly and appearing to do so immediately. However, labeling someone an "overnight success" ignores the numerous setbacks, difficulties, or battles they faced in order to achieve that accomplishment.
Taking care of your outcome, which in your case could be a startup or placement, is the second aspect that needs to be focused upon. Here are a few ways you can work on it like a pro:-
Step 1- Networking
The ideal time to start networking with business leaders in your sector is during your first term. You will have an advantage over most individuals when it comes to employment opportunities and internships.
Due to their strong connections and affiliations in the business world, the IIMs have some of the top placements in India. In the end, it all comes down to how many decision-makers and recruiters you know, as well as how many people are willing to attest to your qualifications. The likelihood of landing a good job increases with the number of individuals you know in the business sector.
Step 2- Gain Experience
As an MBA student in the first term, we are sure that everybody will advise you to take as many courses, internships, and live projects. However, in this article, we will be paying closer attention to "Freelancing".
While internships and live projects are both beneficial, freelancing teaches you how to sell your skills and abilities in the market while also giving you invaluable experience.
In order to impress recruiters, MBA candidates must take Freelancing, internships, and Live Projects seriously while demonstrating their diligence, devotion, commitment, and intellect.
Be flexible with your professional goals and specializations if you want to land a great MBA placement. In the first year, you will study various disciplines, but from the second year on, make sure that all of your projects, internships, and dissertation are in the area of your specialization.
Step 3- Tackle the Status Quo
You should have an agile attitude rather than a rigid one. You should be able to handle various circumstances deftly and calmly. The business sector, where you must interact with people from many cultures, groups, and mindsets, is where this power is most needed.
Consequently, you should interact with a variety of individuals, learn about their perspectives on various issues, and gauge their attitudes. Nobody can stop you from getting employed if you know how to deal with people who have different perspectives. Employers are highly impressed by this skill.
3) How to Approach Learning Throughout your MBA's first Semester
Making a successful career in business demands a commitment to always acquiring new skills and implementing them successfully. To better meet employee requirements and corporate goals, technology is developing to be quicker, more efficient, and more effective. This implies that in order to position yourself for success, the information you have upon graduation must also be updated.
Now is the moment to develop your skills, whether you want to advance your job or change directions. You may advance your management abilities and get ready for changes in business operations by following these procedures.
Step 1- Analyze those Case Studies!
Case studies are real-world or fictitious business scenarios that support various aspects of experiential learning.
You are required to read the case, analyze the concerns raised, assess the underlying problems, and provide solutions. This offers a workable solution and justifies why it would assist your organization in achieving its goals. Detailed plans for executing your suggested solution should be included in your analysis as the last step.
So, get your hands on those case study competitions to improve your management skills. You can access my E-book on How to Analyze Cases for a better understanding. In only five slides, I've demonstrated to you how to examine a case. As a result, you will be able to fully comprehend any complex marketing situation and offer your answer.
Step 2- Try to collaborate with accomplished individuals in your field
Taking guidance from a senior working in your desired field helps you stay motivated and inspired throughout your professional journey. Here is what you need to do to approach them:-
In your first year, email at least 20 to 25 CEOs and CFOs of different companies, and introduce yourself. Mention your goal, and the specification you would like to go for, and ask what skill sets you to need to learn, and what different things you need to consume in order to be successful in that professional role. Many of them will reply to this because for them it appears to be coming from a genuine first-year student.
Step 3- Be a team player
A great proportion of recruiters said that "working with individuals" was among the most critical abilities for their job opportunities. This indicates that a great MBA program should prioritize teamwork as one of its top qualities.
As soon as you enroll in your MBA, take up projects and competitions that require you to work in a team. Make it a habit to learn from others while also practicing your managerial abilities to involve everyone in the project and make sure that nobody is left out.
Being a team player is a practice that will greatly benefit you in the workplace since recruiters value candidates who can get along with others.
Conclusion
It doesn't have to feel like drinking from a firehose to achieve an MBA. Determine your "why" for obtaining an MBA so that you may focus your learning efforts. That will greatly assist you in making your education applicable both now and for the remainder of your career.
I hope the above article has equipped you with all the answers on the must-dos for MBA students in the first term.
Happy Learning with Creadom!