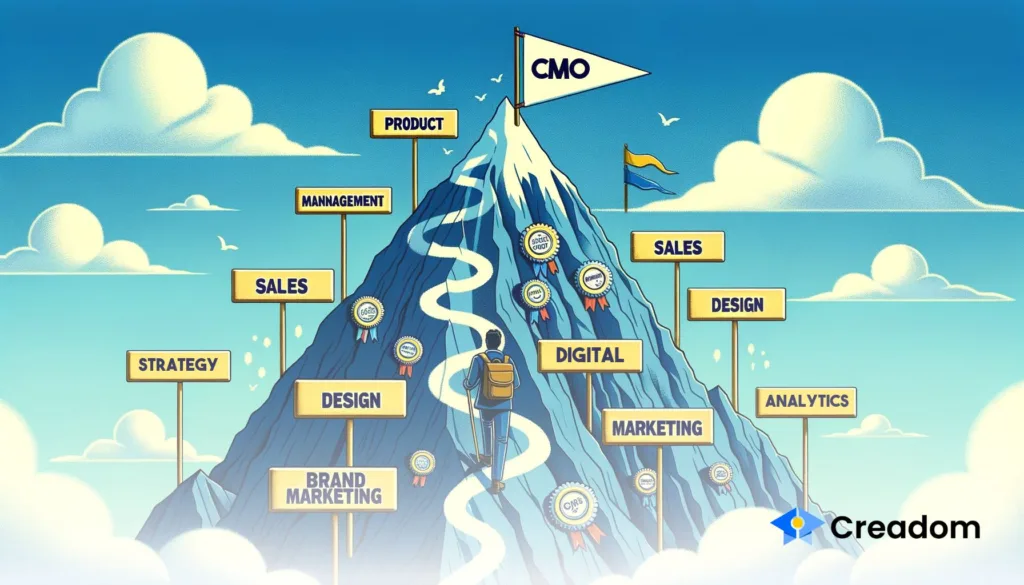 If you are someone who wants to make a career in Marketing, you know the ultimate dream on that marketing career path is to become a Chief Marketing Officer or the CMO.
It's obvious. Either you already know it and, therefore, you are searching for how to become a CMO after your MBA or you are just looking for the best marketing career path.
However, most MBA students and professionals also wonder whether they have the right credentials, the right experience, and a work history that will lead them to become a CMO or not.
My objective in this discussion is straightforward. I want to quash those doubts because in most cases, all those questions don't matter for your marketing career.
By the end of this you will learn that irrespective of your current work profile in Marketing, there is always a clear path for you to become a CMO. I will be sharing with you 8 such paths to be specific.
And while I will be sharing with you those 8 marketing career paths on how to become a CMO, you will know exactly which skills of yours will you need to hone for you to be there.
Marketing Careers and Defining Your Career Goal
You might say to me "Hey, while I know I want to have a career in Marketing, I never said I wanted to be CMO".
Or, you might tell me that "I love marketing, and I want to become the CEO instead"
Or, I will hear a few voices saying "I just want to become an entrepreneur and use my marketing skills".
Which means you could have different long-term career goals. It could be to be a CMO, CEO, Partner at a consulting firm, or even a Founder.
What I would like to point out is that Marketing is a key domain in all these job roles. Whether you are a CMO or a CEO, marketing is an essential component of those job roles.
As a leader of the firm, you are always selling your products and are always thinking about your customers and their delight.
Therefore, what I have done is that I have used the role of a CMO as a proxy for whatever your eventual aim in the field of Marketing is.
My point is that, in the field of Marketing, any leadership role that you may aspire for will have a big element of the CMO in it.
Therefore, just so that all of you budding, aspiring marketers have something to learn from this, I chose the common denominator i.e. CMO as the goal.
With that out of the way, let me now walk you through what are the marketing career paths that will lead you to become that marketing leader or that CMO.
That will also show you simplified roadmaps for you to know How to become a CMO.
How to Become a CMO – 8 Marketing Career Paths
Most students think that there are only a couple of career paths to becoming a CMO. You might also feel the same, that you need to follow certain specific job switches or career paths to become a CMO.
The fact is there is no one fixed path.
You could be working at an Ad agency today and could become a CMO at a top company in less than 10 years.
It's all about knowing where you are and what lies ahead of you.
Here are the career paths that you can follow to become a CMO, whether you are an MBA or a non-MBA.
1. Traditional Career Path to CMO
Let's start with the simplest and most traditional marketing career path which everyone must be familiar with.
This marketing career path shows your journey from a traditional marketing executive to your ultimate goal, Chief Marketing Officer (CMO) in a series of 5 key designation changes.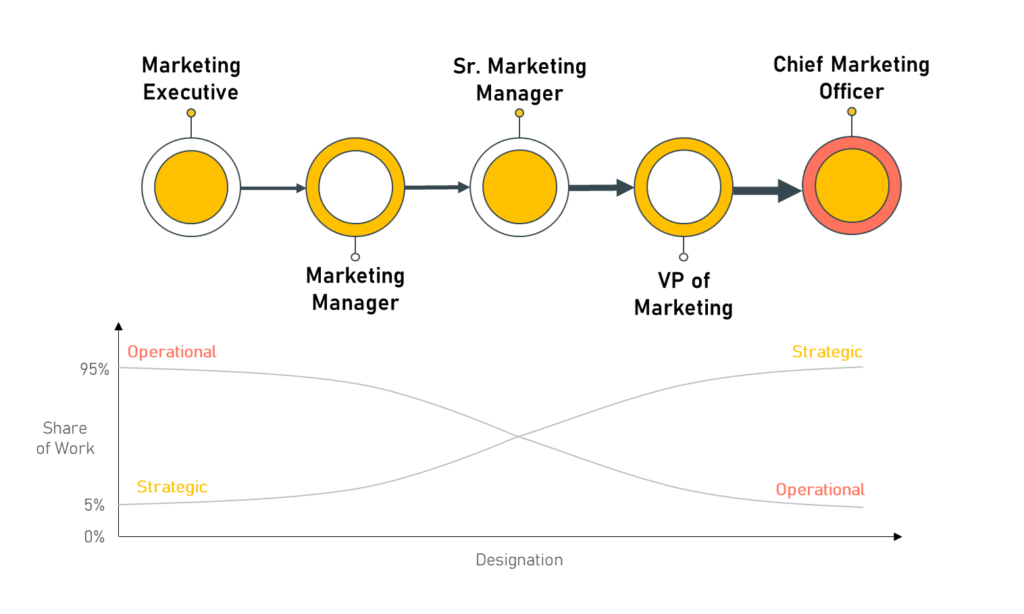 Basically, you start as a marketing executive and then rise above the ranks to reach your ultimate goal.
While I have listed down 5 steps in this route, you must also note that it won't always be 5 steps in every organization. Certain companies might have more designations between these 5 key designations.
The reason why I have put out these 5 designations specifically is that your nature of work significantly changes at these 5 designations. Your job role changes from execution-oriented in nature to strategic at these 5 milestones.
In other words, you will be handed more responsibilities and duties as you grow in your career. Let me help you visualize it.
When you are at the lowest rung of the hierarchy, you will be handed numerous operational responsibilities. However, as you progress in your career, your responsibilities in the operational spectrum switch to the strategic spectrum.
Do MBAs become CMOs faster?
An MBA graduate will have a definite advantage over the non-MBAs, at least in the starting stage of the career. Therefore, an MBA degree will help you skip a step and start from stage 2 which is that of a marketing manager. This is true in most cases if you are an MBA from Tier 1, 2, or even 3 B-schools.
Below those B-schools, you are almost joining at the entry-level so no apparent advantage there..
You may also start further ahead, where you might be involved in a 1-year accelerated management trainee program after which you will be uplifted to a slightly serious role. Some organizations do have these fast-track management trainee programs.
Now that you have understood the most traditional route to the ultimate goal, let me introduce you to some other traditional routes that you could embark on.
2. Product Management Career Path to CMO
If there's a job role in the marketing domain that is sought after these days, it is Product Management. I am sure you would have seen so many communities coming up around Product Management.
Well, if you are someone who is a Product Manager then you also have a marketing career path to become a CMO.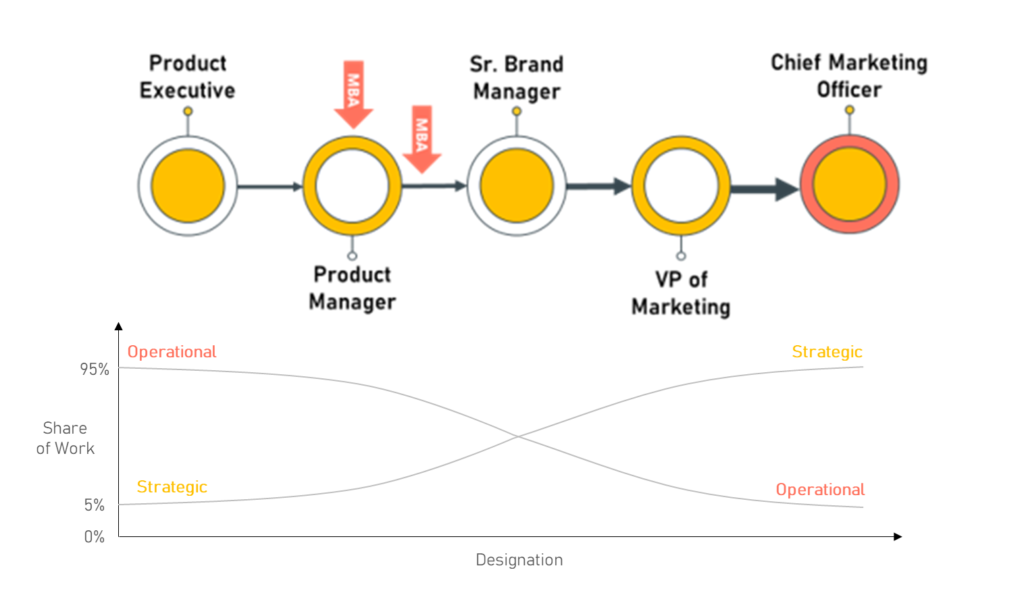 As you can see, your product manager job role soon becomes a Group Product Manager (multiple product lines, etc.) and then a Brand Manager role.
It's a natural progression for a Product Manager. Some companies may also have a specialized VP of Product role or even a Chief Product Officer. But if not, then this is the direction you are going towards.
The impact of pursuing an MBA program is that you usually directly start as a Product Manager or Sr. Product Manager role, based on your experience.
3. Sales Career Path to CMO
Most MBA students who aspire to marketing eventually end up in sales job roles during their campus placements. In B-schools, these are some of the most common job roles.
So many students often ask me if there is a chance for me to ever get into marketing after doing sales. Well, here's what that journey would look like.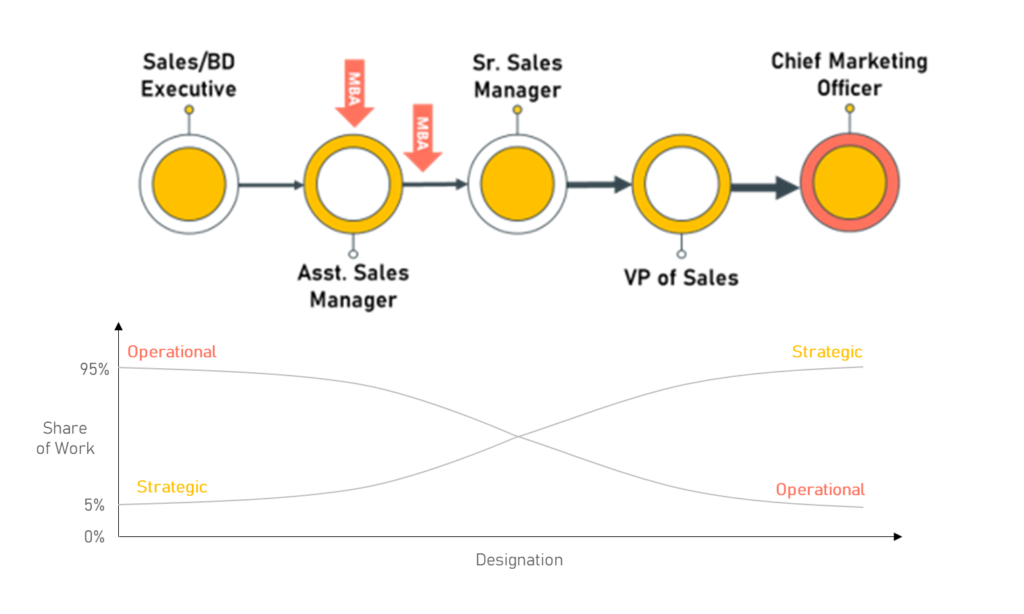 Contrary to what you may know, salespeople make good contenders for product marketing and brand marketing roles. That's because sales give you the experience of being on the frontline, talking to the customers. And those insights and experiences are extremely valuable.
Another variation of my above-shown flow chart could be that you make the switch to marketing early on and grow within marketing instead of doing the entire journey in sales till the VP of Sales designation.
4. Creative/Design Career Path to CMO
If you're the type who thinks in colors and dreams in campaigns, the creative career path is for you. There are always some extremely creative students. They do Photoshop, Video editing, copywriting, blogging, and many such creative things (I too was an amateur VFX artist back in my Engineering days, by the way).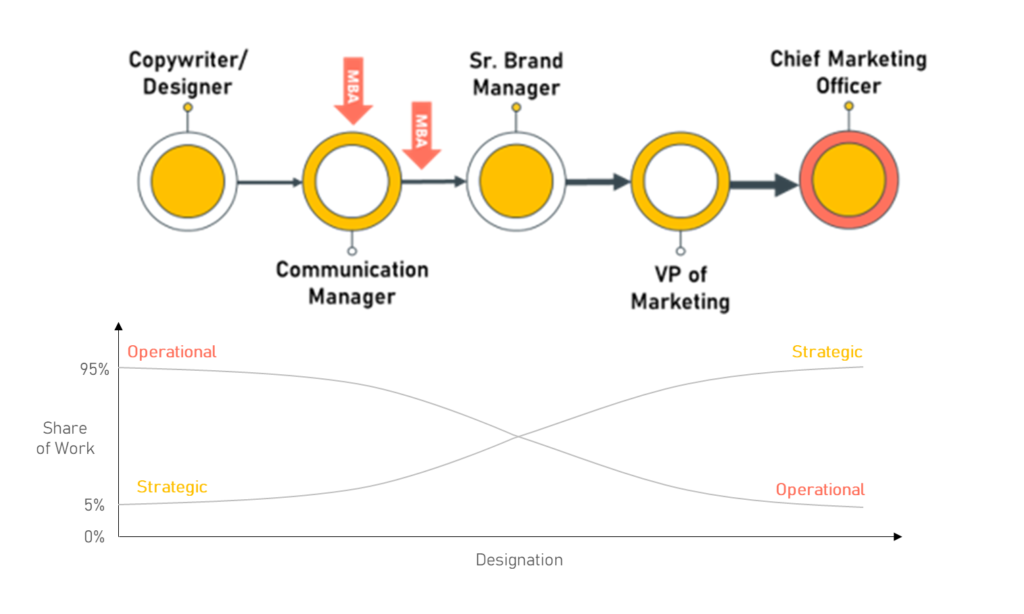 If you are one of those student or professionals, you too have a way to become a CMO in your career. You will soon realize that the creative skills that you possess are quite valued in the field of Marketing.
Starting like that could lead you to be more of a Communications Manager, PR manager, or if you're lucky even a Brand Manager right after your MBA.
And then the path is pretty much clear provided you stick to it.
5. Ad Agency Career Path to CMO
Now, I do understand that a career in an ad agency might not be the best start for MBA students. Quite a few ad agencies recruit from the B-schools and the students wonder what would even be my marketing career path from there. However, even with an ad agency, you do have the opportunity to grow into a CMO.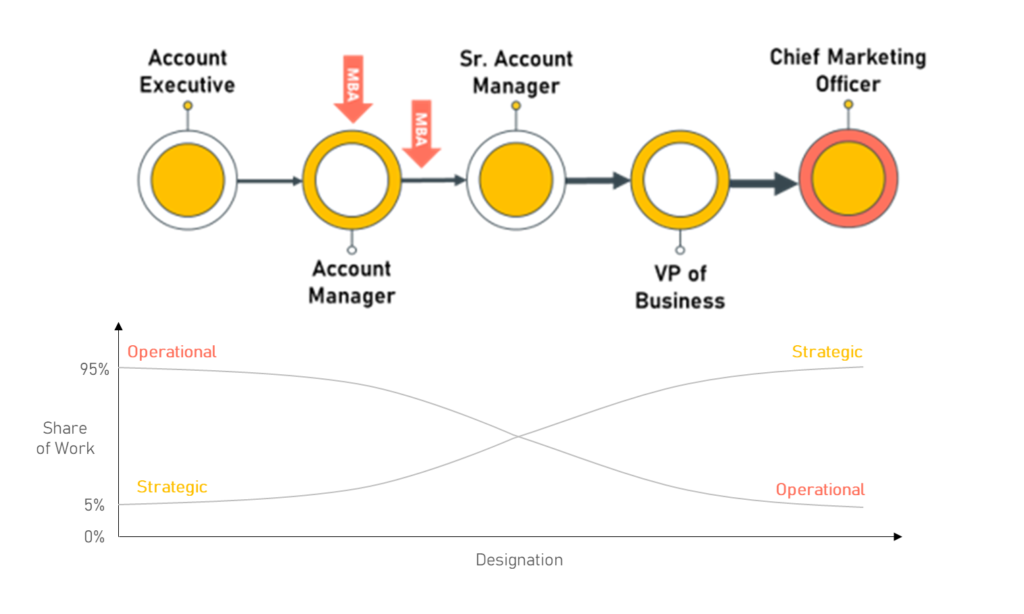 Starting as an account executive, you're the go-between for clients and your creative team.
It's your job to understand what the client wants and then translate that into a language your creatives can run with. And with an MBA, you could be looking at an account manager position right off the bat.
Now obviously, in this career path, you need to make a few job switches for the simple reason that an ad agency usually doesn't have such a CMO role.
However, what you have with you as an advantage is the fact that there are a variety of clients you would have worked with at the ad agency and that is much likely to make you a better marketer.
In the following section, I shall introduce you to certain new and interesting marketing career paths that are beginning to find a place in the corporate world.
Honestly, that might be an understatement.
These roles are starting to flip the marketing world upside-down.
6. Digital Marketing Career Path to CMO
This is probably the most important marketing career path for the simple reason that most forms of marketing are becoming Digital Marketing these days. And more and more jobs and opportunities are opening up in this space.
The idea is simple, performance marketing is the way to scale up revenues for brands, and people who do it well are rewarded.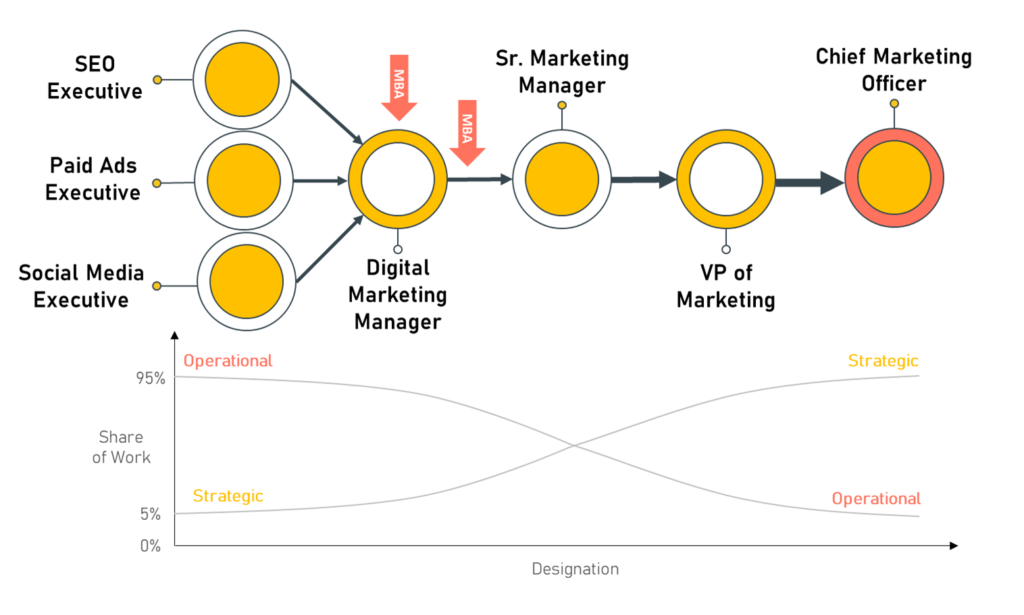 Now, this route is very different from the others.
What makes it unique?
You have three (or even more) different unique entry points in this field. This means, there's a lot of opportunity for you to become a CMO should you choose the Digital Marketing career path.
What are the three different unique entry points?
1. SEO Executive
First up, we have the SEO Executive. SEO – that's Search Engine Optimization for the uninitiated. If you're the kind of person who's got a knack for SEO, this is where your 'how to become a CMO' adventure begins.
Picture this: you've got some SEO experience under your belt, maybe from a pre-MBA job or an internship. That experience is your golden ticket to start as an SEO executive or even leapfrog to a digital marketing manager role.
2. Paid Ads Executive
The second entry point is the Paid Ads Executive. If you've ever played around with Google ads or Facebook ads, this could be your gateway into the digital marketing realm. It's all about leveraging that experience to climb the ranks and reach for the stars.
3. Social Media Executive
As the name says, the third route allows you to enter the chain as a social media executive. For example: suppose you worked as a social media manager wherein you handled the social media account of your organization in your pre-MBA, then you will want to enter this route in the trajectory.
So, the unique factor in this marketing career path is that you will have 3 or more entry points. 'More' because as newer fields and facets emerge within Digital Marketing, the entry points keep opening up.
As mentioned before, you will have an advantage if you are an MBA student. However, what sets this career path apart from the other ones is also the idea that this advantage as an MBA student only applies if and only if you have prior experience in the chosen field.
For example, you will only be able to skip to the stage of a digital marketing manager if you have had prior experience with SEO, paid ads, or social media. You might have had summer internships in these job roles. This experience combined with your MBA degree gives you a head start on this route.
Now that you have understood the digital marketing route, let's move on to the next interesting route.
7. Analytics Career Path to CMO
This is a relatively new field that is hotting up. The reason why I have put analytics are a marketing career path in this How to Become a CMO guide is that I have observed the following two things:
Analytics and Data Science are really good skills to have for marketing leaders. Industries appreciate marketing leaders who have this skill.
Generally, in a B-school, it is usually the marketing-kind of students who are usually inclined towards learning analytics.
Whatever the reason may be, you have a path to become a CMO even if you start your journey in the field of marketing.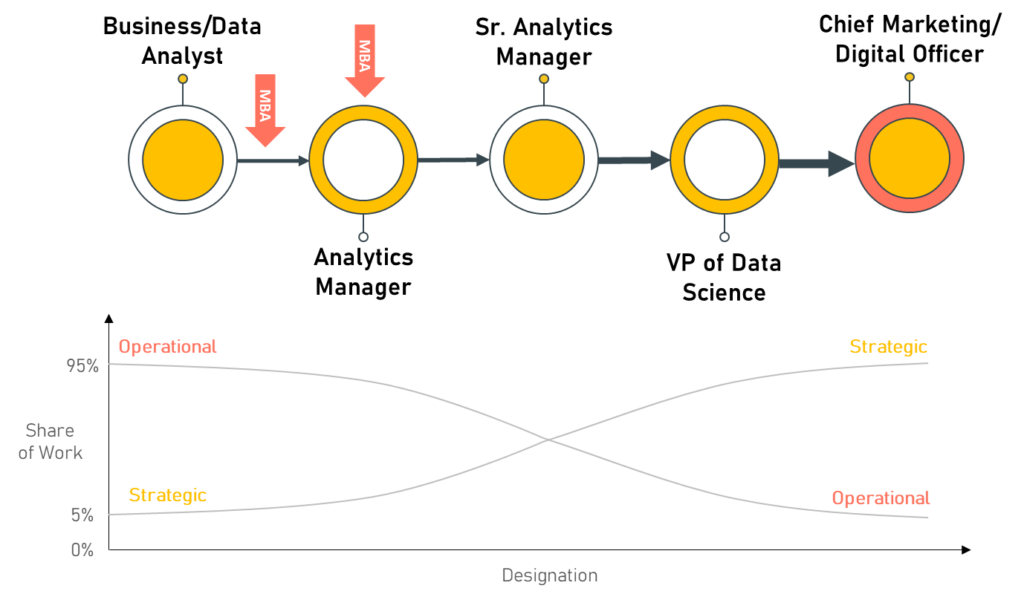 Your experience in the field of analytics combined with an MBA degree can accelerate you to the next stage of the trajectory of becoming an analytics manager.
While the journey is longer because analytics is in itself a growing and evolving field, you need to make sure that you make relevant job switches into the marketing field in job roles that appreciate your analytics background.
Fun fact: the analytics career path can score you relatively higher packages in the placements. What makes it even better is that there's very little competition in this field.
So, if you are willing to work hard in gaining this skill, then you can be excited by the prospect of what's waiting for you at the end of the route.
Finally, we move on to the last route.
8. Entrepreneurship – the ultimate CMO!
Entrepreneurship as a marketing career path? This would have been a surprise entry for you for sure.
Here's the thing. I had to mention it because more MBA students need to embrace this fact.
If your wish is to become a marketing leader, i.e. to become a CMO, the ultimate marketer in reality is someone who understands the need of the market and bets their whole career on solving that problem.
That is an entrepreneur. The entrepreneur is the ultimate marketer.
Picking up entrepreneurship, even as a part-time side hustle is the most confident form of marketing leadership that you can display.
Now, how does one become an entrepreneur, the ultimate CMO?
Your conventional knowledge would suggest a linear path like this (below) which can help you become an entrepreneur.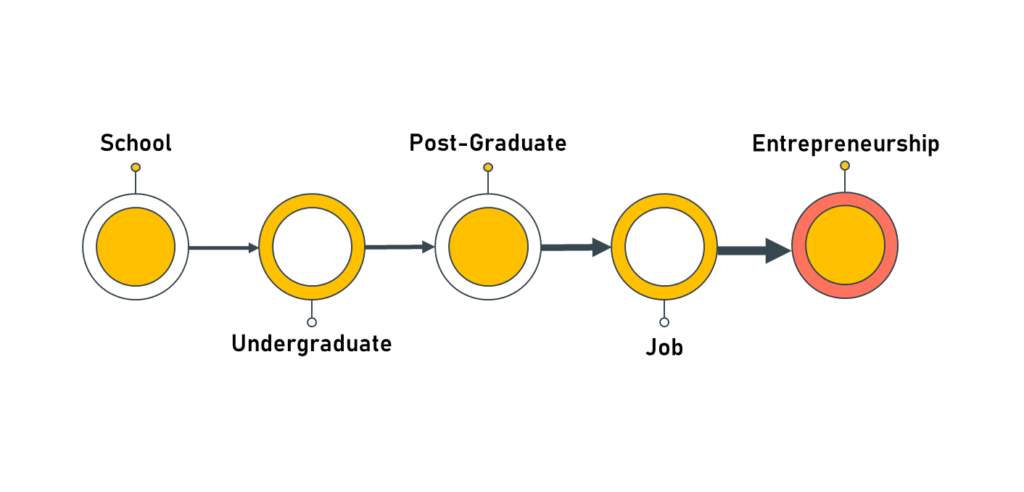 This is also what you would've naturally picked up from your parents or the people around you.
One would think that the path is linear starting from our schooling from which we proceed to further studies- under-graduation and post-graduation. MBA or whichever post-graduation you may be in, the next milestone in this path would be to get employed by finding a job.
Then, once you have amassed enough experience and knowledge in your job, you would then think about starting up on your own.
This is what you and I have known as the conventional path for starting up.
But here's the interesting thing.
This is no longer true. I will go to the extent of saying that the path to becoming an entrepreneur couldn't have been more wrong than this one.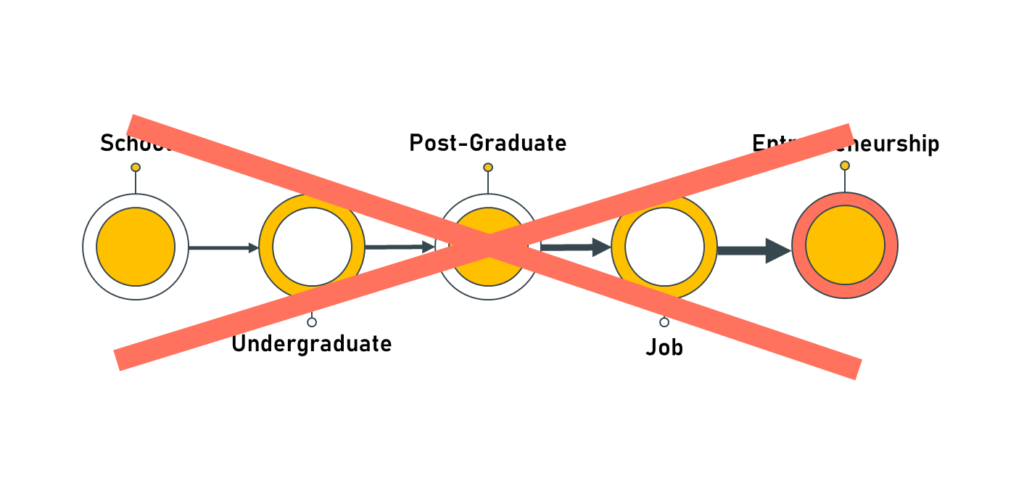 The fact is that, given how rapidly the startup ecosystem is evolving, this trajectory is no longer linear. You don't need to wait for your PG and then a job for you to get a good idea and start becoming your boss.
The new age entrepreneur doesn't bank upon their educational qualifications or job experiences and is capable of starting a start-up whenever a good idea, plus the conviction to execute it well strikes them.
This is the new career path to entrepreneurship.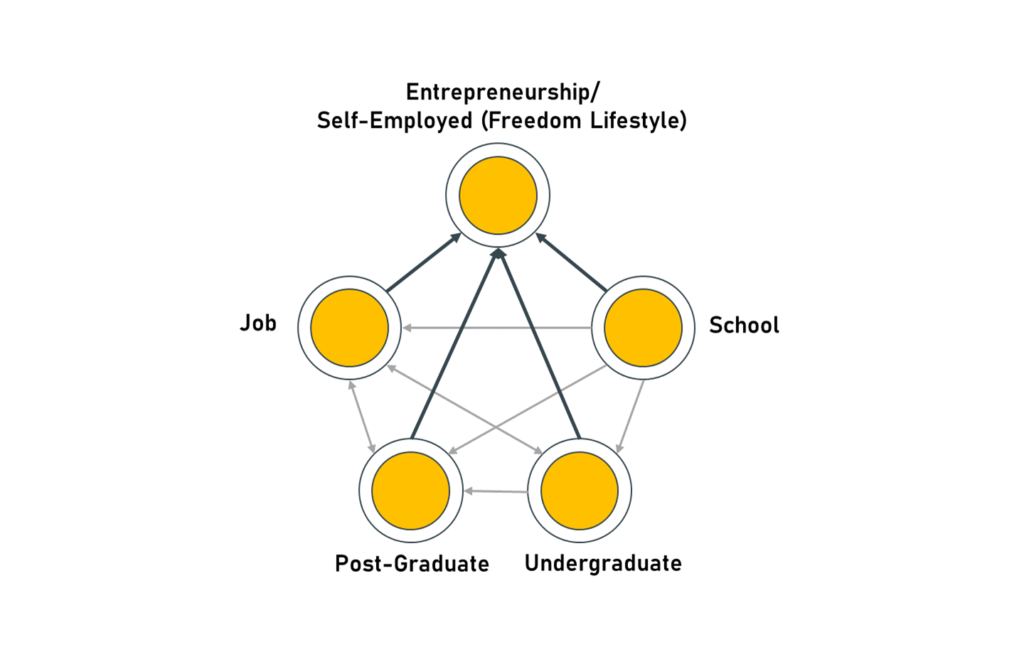 Anyone can start up from literally any career stage of their life!
If you are a school student with an innovative and bankable idea, you could very well be on your way to becoming one of the youngest entrepreneurs!
Similarly, any undergraduate or postgraduate is just as capable as any other to begin a start-up.
Therefore, if you can think up an innovative and bankable idea, draw a business plan around it, and execute it strategically, you are more or less an entrepreneur.
Now, what's the point that I am getting at?
The point is simple.
If you are thinking about how to become a CMO, then there is no way being an entrepreneur would not have crossed your mind.
You might have suppressed the thought because there is no proven career path that you can follow to become an entrepreneur. Frankly, my entire course Career GTM is on this – how to help MBA students and professionals monetize their knowledge and skills make money, and build businesses.
But I had to mention it here so that you know, if marketing interests you, think about building a business right from your hostel room.
The kind of marketing experience that it will give you is nothing like anything.
Conclusion – How to become a CMO after MBA
And that's a wrap on your journey through understanding the various marketing careers post-MBA! The idea was for you to learn that the ultimate boss in Marketing i.e. the CMO is a job role that you can reach from whatever your current place is.
From traditional roles to digital frontiers, each path offers a unique blend of challenges and rewards. Remember, your MBA is more than a degree; it's a launchpad for your aspirations.
So, choose the path that resonates with your passion and strengths, and embark on an exciting journey towards becoming a CMO. The marketing world awaits your unique flair and strategic vision. Happy learning, and may your career in marketing be as fulfilling as it is successful!
Jahanvi Baliga, from IIM Rohtak, has also contributed to structuring this article.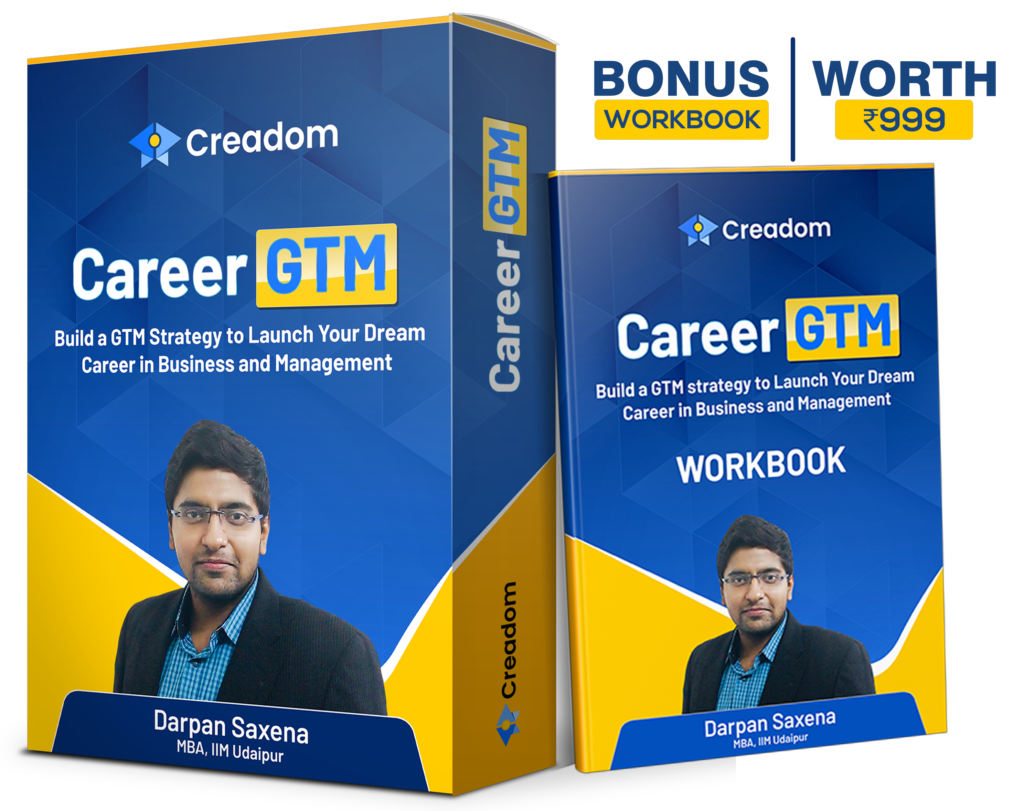 Get your dream MBA job or placement
A unique 7-day program to build a high-impact profile for attracting your dream placement and off-campus job offers