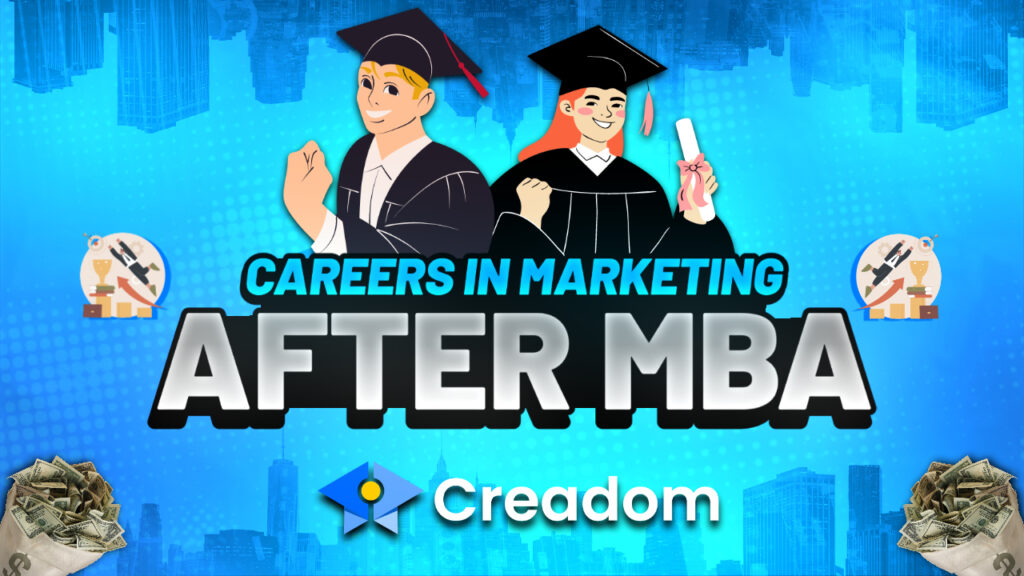 Would you like to begin or deepen a career in marketing after MBA?
You have come to the right place. Over the years, the marketing industry has grown consistently. Accordingly, you are also presented with diverse career opportunities that require unique skill sets. Assuming you are all ambitious and driven students who aim to make it to the top of the game, I have highlighted the various career in marketing after MBA – the 8 best career paths to become a CMO.
A marketing career typically involves generating interest in a company's brand and products, and marketers go about that in various ways.
Have a look at this video by Darpan Saxena for a better understanding.
If you choose to pursue this in-demand line of work, then let me assure you that there is more than one career path to explore.
So let me begin by clearing up certain misconceptions.
Your idea about all the career in marketing after MBA must be rooted in what the seniors have told you, or what your placement reports highlight.
For example, everyone (or I assume everyone) chooses to attend a b-school after they analyze their institute's placement reports. The same must be true for you. The placement reports must have given you some idea about the career opportunities that are presented to you.
Therefore, your understanding of the various trajectories available to you is restricted to either what your seniors tell you or what the placement reports highlight.
This article is aimed at providing you with a bird's eye view of the various career pathways in marketing after an MBA so that you could match the job role with your skillset, interests, and goals.
Let me also clear up a second misconception – the marketing world is not as competitive as it seems. There are several paths you could embark upon to reach the ultimate goal.
But what is your ultimate goal?
How can you determine your career goal if you are unaware of the opportunities available?
Let me make it simple for you.
Defining a career goal
Let me explain with the help of an example: suppose you want to assume the top role in any company. It could be a CMO, CEO, Partner, or even Founder. It could be anything and everything you are interested in.
What I would like to point out is that marketing is a key domain in all these fields. Whether you are a CMO or a CEO, marketing is a quintessential component of all fields.
How so?
Let's revisit the definition of marketing: it helps understand customers, reach out to them, and make them happy with the product or service they offer.
This function is fundamental to all areas of a business and across different divisions. An organization cannot function without the above principle of marketing.
To simplify this framework, let's assume that you want to be at the helm of the marketing division in your company – the CMO of the company. Going forth, I will be considering this assumption to explain all concepts.
Now that you have a career goal to work towards, the next step would be to plan out the strategy to get there.
Career in Marketing After MBA – 8 Best Career Paths to Become a CMO
In the following sections, I shall lay down several frameworks that would lead you to your ultimate goal. How you choose your framework depends upon your interests, aptitude, and skillset.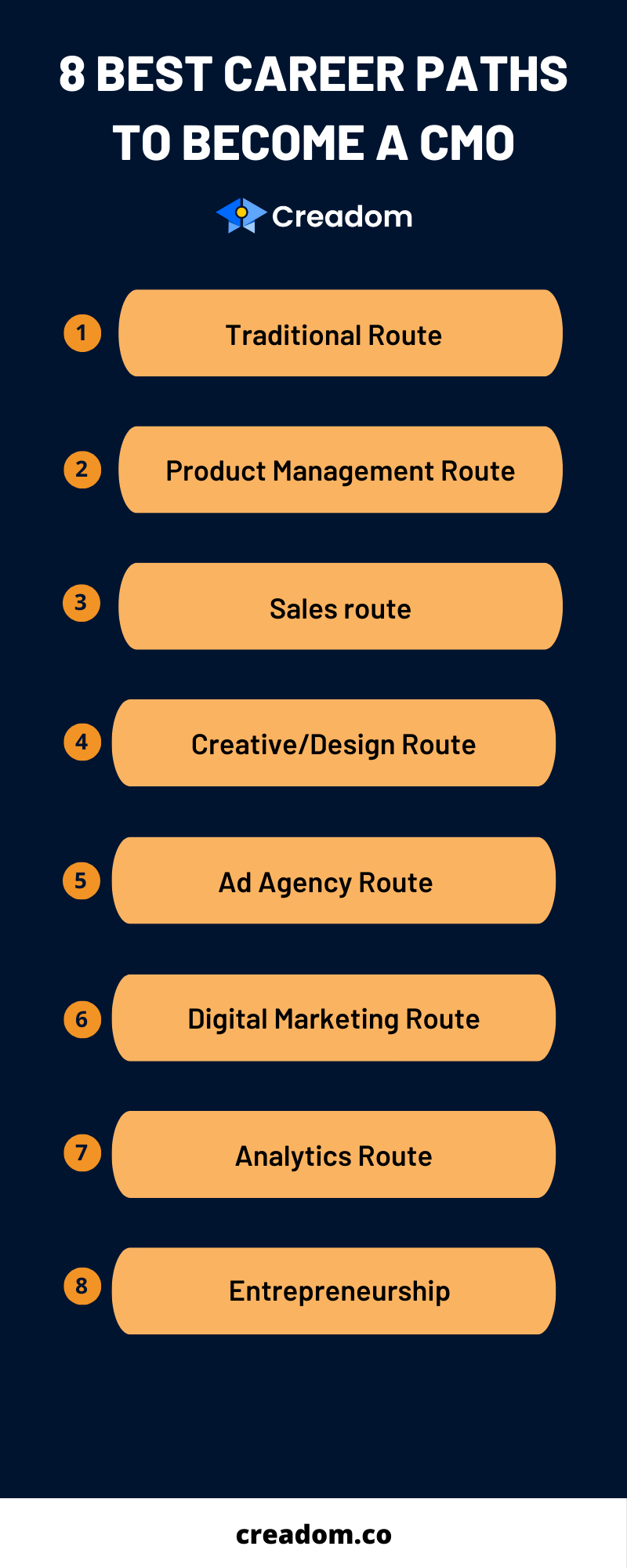 1. Traditional Route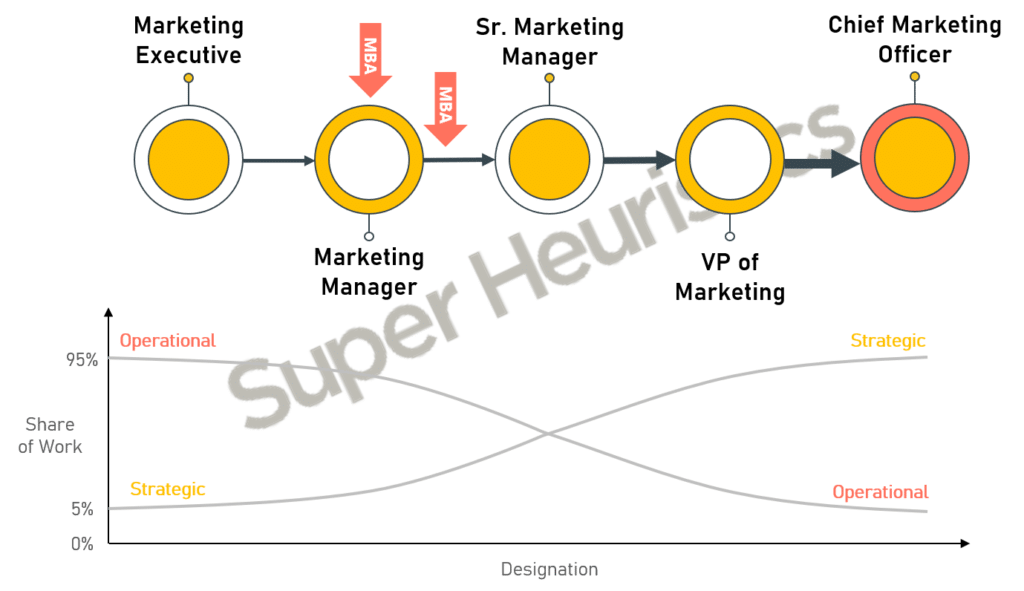 Let's start off with the simplest and most traditional routes which everyone must be familiar with.
This framework shows your journey from a marketing executive to your ultimate goal, Chief Marketing Officer (CMO) in a series of 5 steps.
Basically, you start off as a marketing executive and then rise above the ranks to reach your ultimate goal.
While I have listed down 5 steps in this route, you must also note that it won't always be 5 steps in every organization. Certain organizations might add more variables to this equation.
What you can be sure of is the fact that these 5 steps are the 5 milestones that will bring about a significant increase in your workload.
In other words, you will be handed more responsibilities and duties as you grow in your career. Let me help you visualize it.
When you are at the lowest rung of the hierarchy, you will be handed numerous operational responsibilities. However, as you progress in your career, your responsibilities in the operational spectrum switch to the strategic spectrum. In other words, your operational responsibilities decline as your strategic responsibilities increase.
Do MBA students have an advantage?
An MBA graduate will obviously have a definite advantage over the rest. Therefore, an MBA degree will help you skip a step and start from stage 2 which is that of a marketing manager.
You may also start off further ahead, where you might possibly be involved in a 1 year accelerated management trainee program after which you will be uplifted to a slightly serious role.
Now that you have understood the most traditional route to the ultimate goal, let me introduce you to some other traditional routes that you could embark on:
Other Traditional Routes
Now that we have explored the most common routes you could embark on, let me share some other traditional routes that you could consider.
2. Product Management Route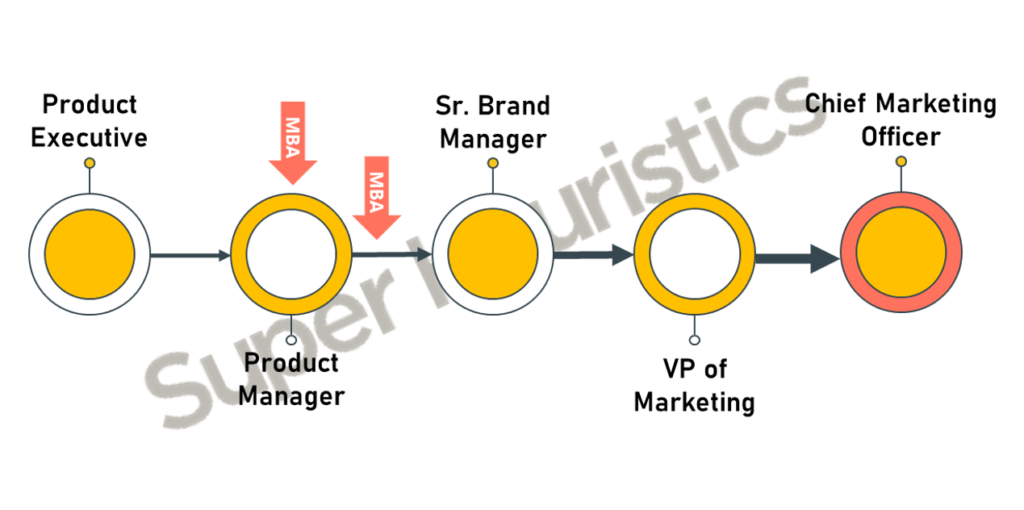 I have tried to simplify this route in a series of 5 steps where you begin your career as a product executive and then move on to reach the ultimate goal – to be a CMO.
3. Sales route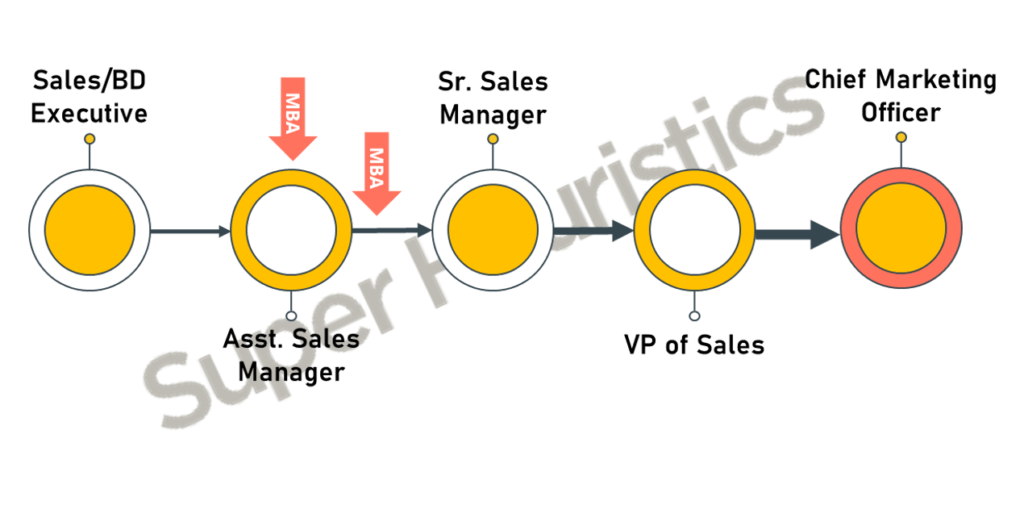 The sales route is one of the most common offers that are floated across all b-schools. For all those who are interested in pursuing a career in sales, this route is the one for you.
Similar to the above two routes, I have simplified the sales route into a series of 5 steps beginning with the sales/BD executive. As you develop and grow, you accelerate onto the higher stages from being an ASL to VP of sales.
Once you are elected as the VP of sales, you would have accumulated enough experience in sales and marketing to pose as a strong contender for the role of CMO.
4. Creative/Design Route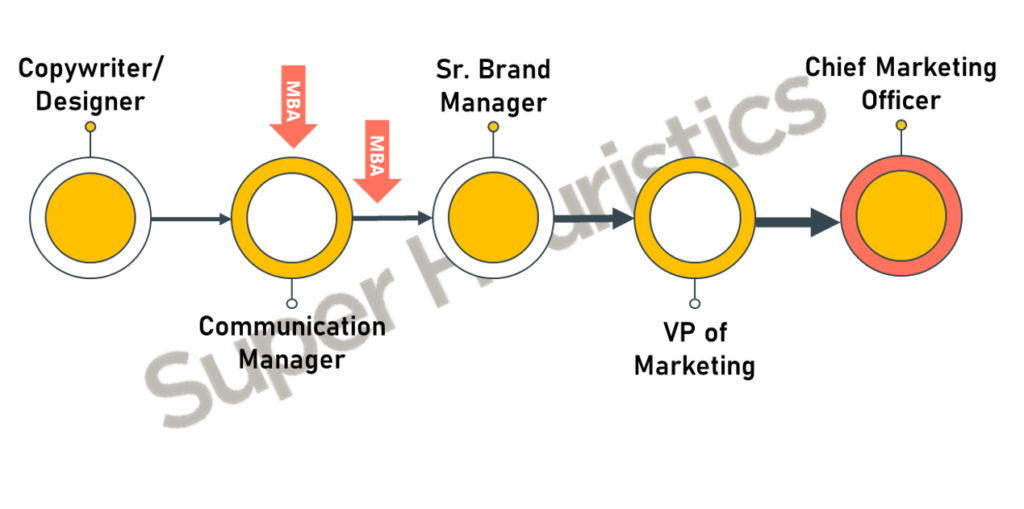 This route is meant for those people whose skill sets are more aligned with creative and design arts.
How is this route helpful?
For all those students who are not pursuing an MBA, you might probably be of the opinion that your career prospects without an MBA won't be very bright.
Let me prove you wrong.
While I do admit that a career without an MBA will be more stretched out, there is always a way to reach the ultimate goal.
This is the way to that goal. This is the route you need to embark on.
For example: If you are a creator, like a copywriter perhaps, this is the field for you.
5. Ad Agency Route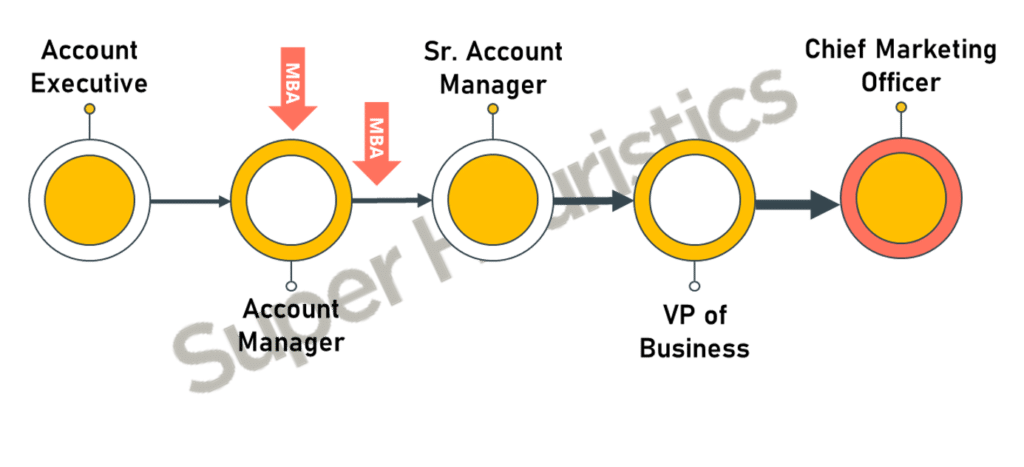 The final traditional route is the ad agency route.
Now I do understand that a career in an ad agency might be a nightmare for MBA students. However, even with an ad agency, you still have the opportunity to grow into a CMO.
Like all other routes explained before, the ad agency route also comprises of a series of 5 steps.
And just like all the previous routes, having an MBA will make your life easier as you can skip the first stage of the process and move directly into the account manager's office.
Now that we have explored all the traditional routes, it is time to move on to more interesting subjects.
In the following section, I shall introduce you to certain new and interesting routes which are beginning to find a place in the corporate world.
Honestly, that might be an understatement.
In fact, these roles are starting to flip the marketing world upside-down.
6. Digital Marketing Route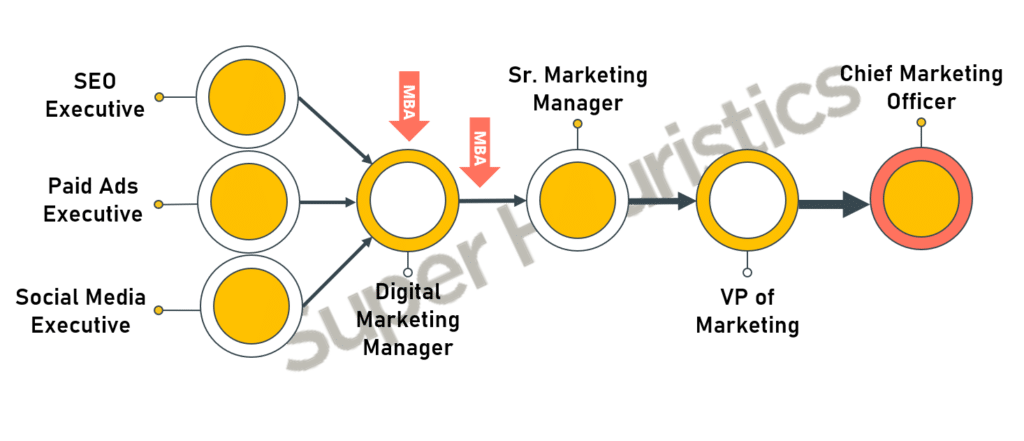 The 6th route is the much-awaited digital marketing route.
I am certain that every one of you has already been introduced to this term.
Digital marketing is a relatively new concept and has already found a place in the marketing world.
Now, this route is very different from the others.
What makes it unique?
You have three different unique entry points in this field.
What are the three different unique entry points?
(a) SEO Executive
SEO stands for Search Engine Optimization. If you are somebody whose interests and skill sets are aligned with SEO, then this route will be the one you will want to embark on.
For example, you might already have prior experience in SEO in your pre-MBA. I am working with Super Heuristics as an SEO intern. This allows me to gain experience in this area. Similarly, you may also have accumulated experience in this domain which allows you to enter this route and take on the role of an SEO executive or perhaps, digital marketing manager.
(b) Paid Ads Executive
The second entry point is that of a paid ad executive. Suppose you have had experience working with Google ads or Facebook ads, then you would enter the chain as a paid ads executive, eventually rising above the ranks to reach your ultimate goal.
(c) Social Media Executive
As the name says, the third route allows you to enter the chain as a social media executive. For example: suppose you worked as a social media manager wherein you handled the social media account of your organization in your pre-MBA, then you will want to enter this route in the trajectory.
So, the unique factor in this route is that you will have 3 entry points.
As mentioned before, you will definitely have an advantage if you are an MBA student. However, what sets this route apart from the other routes is also the idea that this advantage as an MBA student only applies if and only if you have prior experience in the chosen field.
For example, you will only be able to skip to the stage of a digital marketing manager if you have had prior experience with SEO, paid ads, or social media. You might have had summer internships in these job roles. This experience combined with your MBA degree gives you a head start on this route.
Now that you have understood the digital marketing route, let's move on to the next interesting route.
7. Analytics Route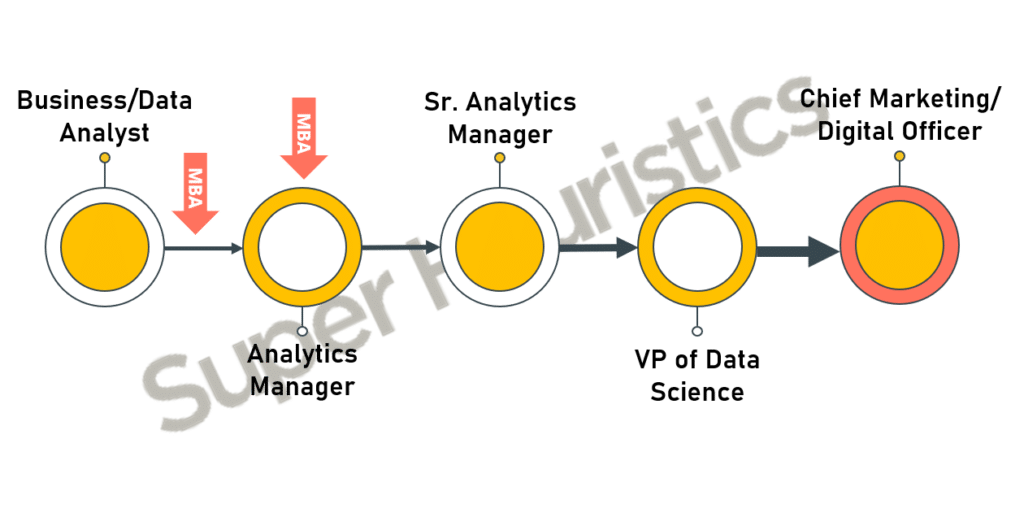 This is a fairly new route that has only recently started gaining traction in the corporate world. This is one route where you will be expected to have a very developed set of hard skills.
Your experience in the field of analytics combined with an MBA degree can accelerate you to the next stage of the trajectory of becoming an analytics manager.
Fun fact: the analytics route can score you very high placements. What makes it even better is that there's very less competition in this field.
So, if you are willing to work hard in gaining this hard skill, then you can be excited by the prospect of what's waiting for you at the end of the route.
Finally, we move on to the last route.
8. Entrepreneurship
Entrepreneurship and start-up culture are fairly nascent ideas in India. The year 2021 has seen India make a mark for itself in the global entrepreneurial ecosystem.
Over the years, several budding entrepreneurs have been vying to make a name for themselves in the Indian entrepreneurial ecosystem.
If you are someone who is interested in being your own boss, this is the path for you.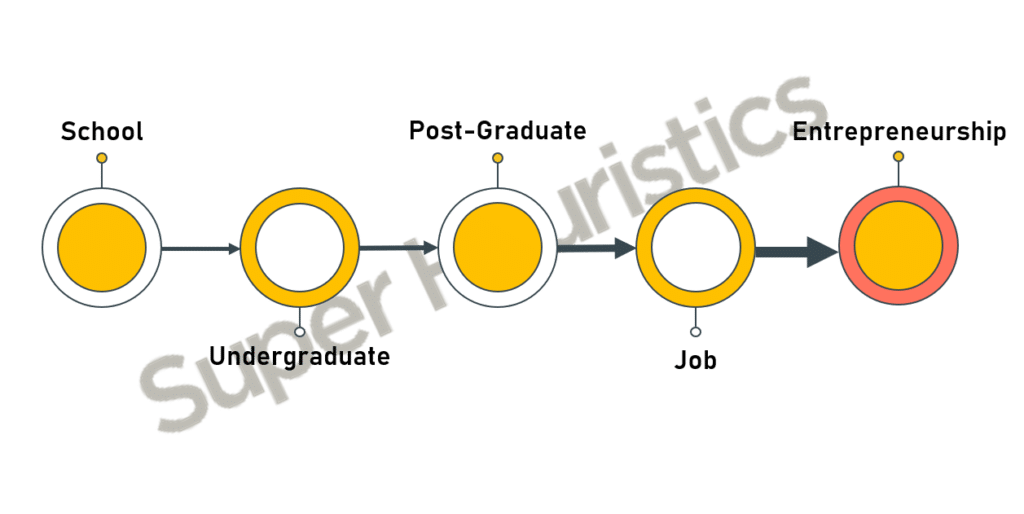 The above diagram highlights the beginning of the route in our school from which we proceed to further studies- under-graduation and post-graduation. Assuming every one of you has joined your PGP program with placements as your ultimate goal, the next milestone in this path would be to get employed.
Once you have amassed enough experience and knowledge through your career, the fire to start your own business must have ignited, prompting you to enter the entrepreneurial ecosystem.
However, this sequential trajectory is WRONG.

Over the years, we have developed a new trajectory that fits the present status quo.
In other words, anyone, irrespective of their educational qualifications, is capable of starting a start-up.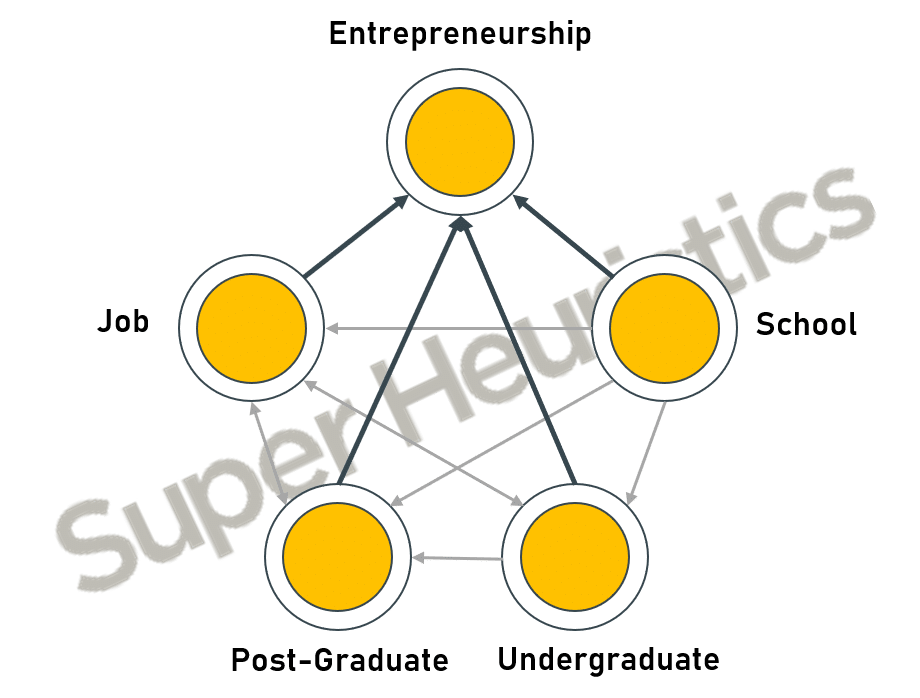 If you are a student with an innovative and bankable idea, you could very well be on your way to becoming one of the youngest entrepreneurs.
Similarly, any undergraduate or postgraduate is just as capable as any other to begin a start-up.
Therefore, if you can think up an innovative and bankable idea, draw a business plan around it and execute it strategically, you are more or less an entrepreneur.
Conclusion:
This article must have answered all your questions about the various careers in marketing after MBA. You may choose to follow any of the given frameworks while ensuring that it aligns with all your interests and skill sets.
Happy Learning at Creadom!